Attended the Design Immersion Seminars for IHG hotels
Reynolds Plantation Magazine
Published December 2013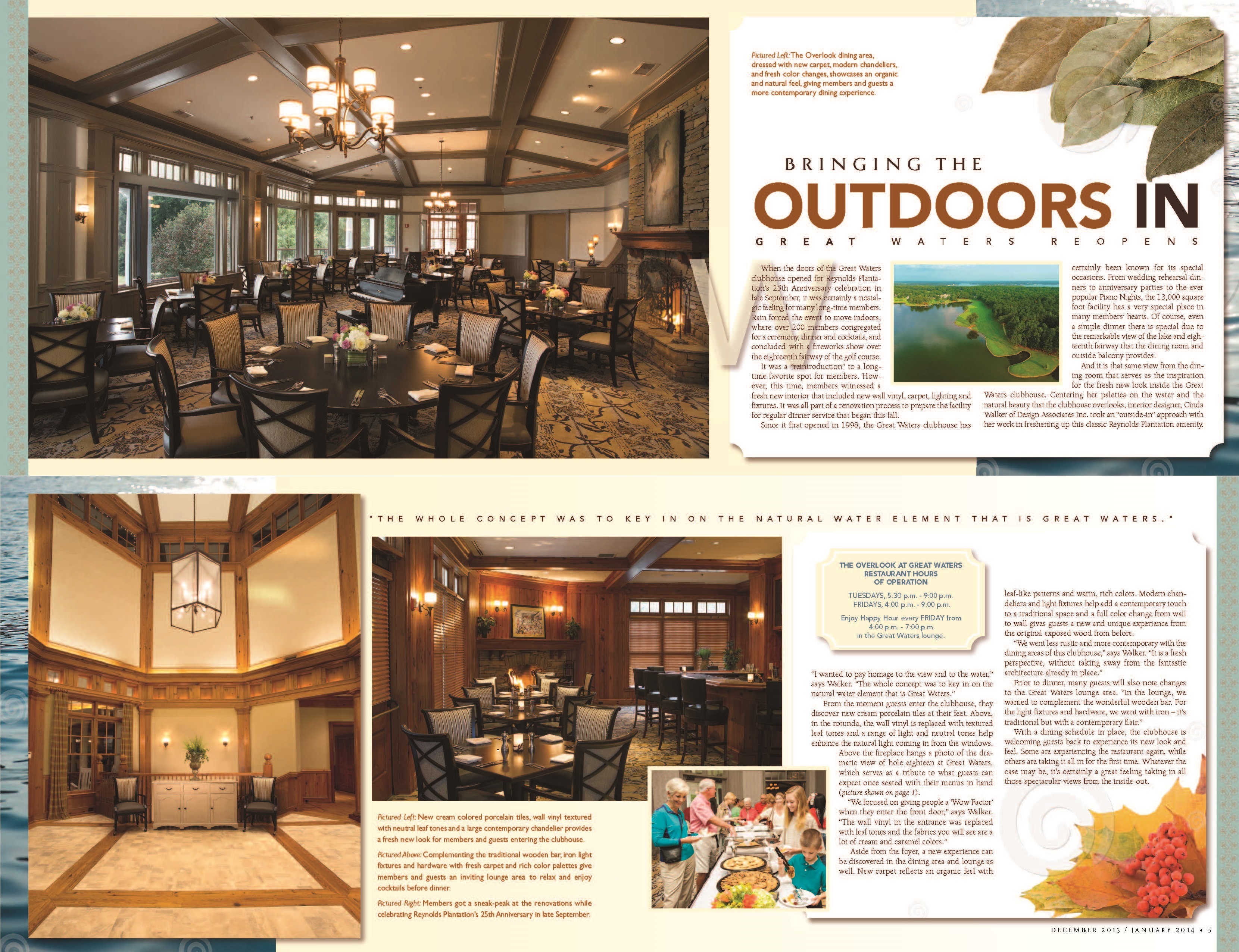 mobile friendly online publication below

If you are looking for an interior design company, look no further than Cinda Walker and Design Associates. You'd be foolish not to engage her for your project.
During the boom years of golf course development, we hired Cinda to do the interior design and purchasing for three new clubs in the Atlanta area, one of which was a very high profile Robert Trent Jones, Jr. course and Chapman, Coyle, Chapman clubhouse. Her work and imagination were remarkable. Cinda can be traditional when it calls for it and progressive if you need her to be.
Equally important, she is a delight to work with. Hire her!
Whitney Crouse
Chairman
Mosaic Clubs and Resorts
I have worked with Cinda and her firm Design Associates Inc. for approximately 8 years on various projects when I was VP for Construction/ Projects at HVMG and another additional year at my firm DanaCon consulting. We have worked with Cinda on every kind of project from Full service to limited service to new restaurant/lounge concepts etc. She has helped up with several of the major Brands to develop new concept designs which helped set the bar for the brand.
Cinda and her firm are extremely knowledgeable, nimble and creative on the design side and on the budget side- always found her to be very flexible with budgets in regards to design and realities of budget constraints.
I would highly recommend Cinda and her firm for your project needs.
Mike Stevens
Owner
We at Winthrop Senior Living Communities would like to highly recommend Cinda Walker with Design Associates, Inc. as a multi-talented designer.   She has done interior design and purchasing for several of our communities. We began working with her on projects starting in 1999 at Winthrop@ Cobb, Winthrop @Tucker, and Winthrop @ Buckhead; more recently at Winthrop Court Assisted Living and Winthrop West Assisted Living. Having worked with Cinda for several years, we are grateful for her expertise in guiding us through the development process.  Cinda was considerate of our budget and we found her services reasonably priced. Her professional advice and excellent deign skills helped us create exactly what we are looking for in our communities.
Sincerely,
Charles S. Williams Jr. CEO
Winthrop Senior Living Communities
Charles Williams Real Estate Investment Corporation