For more information:
Morgan Lanier or Valerie Miller
Melissa Libby & Associates
404-816-3068
morgan@melissalibbypr.com
valerie@melissalibbypr.com
HOLIDAY INN & SUITES BREAKS GROUND IN CHAMBLEE ON DEC. 14
InterContinental Hotel Group to Build Custom Hotel with Rooftop Bar and Global Fusion Restaurant
ATLANTA (Dec. 10, 2018) – Holiday Inn & Suites is breaking ground on a new custom hotel at 4401 Chamblee Dunwoody Road just south of I-285 that is scheduled to open in 2020. The new five-story hotel, part of InterContinental Hotels Group's (IHG) portfolio of brands, will feature a rooftop bar and a global fusion restaurant from chef and restaurateur Archna Becker of Atlanta's acclaimed North Indian restaurant Bhojanic. A groundbreaking ceremony is taking place at the hotel site on Friday, Dec. 14 from 3:30 to 5:30 p.m.
"The Chamblee area of Atlanta is experiencing a tremendous amount of development right now, and Holiday Inn & Suites will attract the business travelers and tourists needed to support this boom," says manager member Mohammad Hossain of Nirvana Land LLC. "We are thrilled to be opening the hotel in this thriving market and look forward to supporting the local Chamblee economy."
The new hotel is located right near the Chamblee-Dunwoody exit on I-285 and offers travelers an affordable, enjoyable hotel experience where guests are always welcomed warmly. This location also boasts convenient access to new retail and office spaces, three top medical centers and desirable Atlanta-area neighborhoods such as Brookhaven and Dunwoody. IHG's Americas office is also located near the new hotel site.
The completely custom Chamblee Holiday Inn & Suites will feature 143 rooms, underground parking for up to 182 cars, the first hotel rooftop bar in the area, and food and beverage operations helmed by one of Atlanta's leading chefs.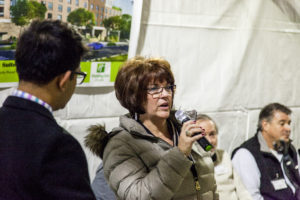 On Dec. 14, the project's lenders and construction team are gathering with lead architect Daniel Lemberg of Architect LLC and interior designer Cinda Walker of Design Associates, Inc. to celebrate the hotel's future and answer questions. A food and beverage tent will be available, as well as plenty of photo opportunities featuring team members breaking ground with gold shovels.
About Holiday Inn & Suites
Holiday Inn® believes the joy of travel is for everyone. Holiday Inn prides itself on delivering an affordable, enjoyable hotel experience where guests are always welcomed warmly. Holiday Inn opened the doors of their first hotel in 1952, and today the Holiday Inn Brand Family is the largest hotel brand in the world, with the largest development pipeline. Holiday Inn & Suites offers guests spacious rooms and top amenities.
About IHG®
IHG ® (InterContinental Hotels Group) [LON:IHG, NYSE:IHG (ADRs)] is a global organization with a broad portfolio of hotel brands, including Regent Hotels & Resorts, InterContinental® Hotels & Resorts, Kimpton® Hotels & Restaurants, Hotel Indigo®, EVEN® Hotels, HUALUXE® Hotels and Resorts, Crowne Plaza® Hotels & Resorts, voco™ Hotels, Holiday Inn®, Holiday Inn Express®, Holiday Inn Club Vacations®, Holiday Inn Resort®, avid® hotels, Staybridge Suites® and Candlewood Suites®.
IHG franchises, leases, manages or owns more than 5,500 hotels and approximately 826,000 guest rooms in almost 100 countries, with more than 1,800 hotels in its development pipeline. IHG also manages IHG® Rewards Club, our global loyalty program, which has more than 100 million enrolled members.
InterContinental Hotels Group PLC is the Group's holding company and is incorporated in Great Britain and registered in England and Wales. More than 375,000 people work across IHG's hotels and corporate offices globally.
Visit www.ihg.com for hotel information and reservations and www.ihgrewardsclub.com for more on IHG Rewards Club. For the latest news, visit: www.ihgplc.com/media and follow us on social media at: www.twitter.com/ihg ,
www.facebook.com/ihg and www.youtube.com/ihgplc .